Delivery Status:
3-5 days
Metallic Black, Silk White, Shine Gold, Moon Violet, Burgundy Red, Blue Steel
| Title | name | detail |
| --- | --- | --- |
 Recently, recognised XDA developer Unjustified Dev has made a root method public, which works on a number of LG devices such as G Flex 2, LG G3 and so on running both Android Lollipop and KitKat firmware. Based on the same method, forum member, avicohh has released a 'One click script', which does the same rooting function, but in an easier way.
As avicohh says, this method should work on any LG G3 stock firmware that is both on Lollipop and KitKat and confirmed for the following LG devices as well.
LG G3 (all variants)
LG G2
LG G2 Mini
LG F60
LG Tribute
LG G Pro 2
LG G Pad
LG L90
Etc
Check out the following root guide if you want to achieve root on your LG G3 using the one click script.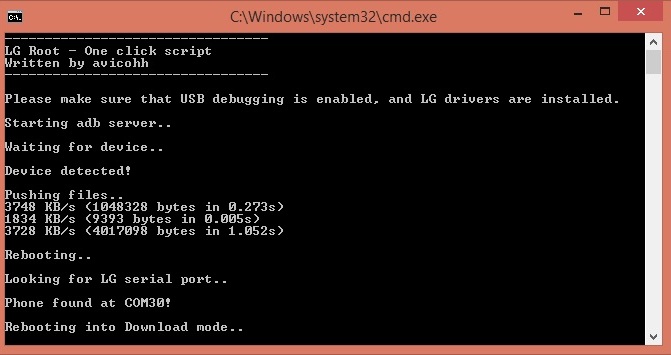 Important points
Create a backup of all important data of the phone before following the root guide.
Ensure that the LG device is having above 80% battery.
Rooting your device will void the manufacturer's warranty.
The One click script root supports the aforementioned LG smartphones only. Do not apply this on any other variant.
SN Traders will not be held liable for any damage to the device.
Download links
One click script [File name: LG driversLG_Root_Script_by_avicohh.exe]
LG drivers [File name: LGUnitedMobileDriver_S51MAN313AP22_ML_WHQL_Ver_3.13.2.exe]
How to root LG G3 on LG Android 5.0 Lollipop firmwares
Step-1: Install LG drivers on your PC if you have not
Step-2: Download the root script and extract it to the same folder. (Double click on the 7z exe file) 
Step-3: Enable USB debugging on your LG G3. Go to Settings>> General>> About phone>>Software information>> tap on build number seven times. Again go to Settings>> Developer options and turn USB debugging on
Step-4: Connect your phone to the PC using USB cable
Step-5: Double click on LG Root Script.bat file, to run the script
Step-6: Follow the on-screen instructions
Step-7: If your phone does not recognise, try switching between MTP and PTP options
Step-8: In case you get MSVCR100.dll is missing error, install Visual C++ Reditributable
Download links: 32 bit/ 64 bit
Your LG G3 should now be rooted on Android Lollipop firmware.